Meet Cramer.
Cramer is Boston's leading event and content marketing agency with clients that include BOSE, Fidelity, IBM, and ThermoFisher Scientific. Since the beginning of the COVID-19 pandemic, most of Cramer's event work has been virtual or hybrid. They ramped up quickly because they have been working in the online event space for more than 20 years.
How is Cramer set up to produce virtual events?
By the numbers, the Cramer studio is equipped with a communications center that can handle up to 60 simultaneous video remotes; six video suites; five broadcast control rooms; four audio suites; and two sound stages. They also have an in-house, multi-disciplinary team of design, engineering, technology, video, writing, and strategy experts to produce broadcast-quality events.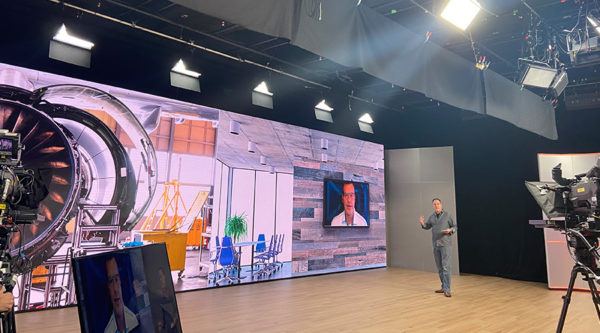 How does Cramer use Titler Live 4 Broadcast in their clients' work?
Cramer installed Titler Live 4 Broadcast in all four of their broadcast hubs as a foundational piece of on-air software. They use seven licenses on a daily basis, mainly for advanced lower thirds for speaker identification and fonting. Some licenses are used by their graphic design team to make and approve animated graphics before going to the production team.
What does Cramer like most about working with Titler Live 4 Broadcast?
NewBlue's Titler Live 4 Broadcast streamlines Cramer's workflow to get more done faster. The software gives them the flexibility and accessibility to create dynamic graphics without tapping into their animation team. It also allows them to make graphic changes on the fly.
"Making adjustments is paramount in our industry. Last minute tweaks such as fonts or logos are very common. Titler Live 4 Broadcast simplifies that process of incorporating clients' branding requests such as colors, fonts, and imagery." –Eric Girard, Senior Technical Director, Cramer
What other software and hardware does Cramer use with Titler Live 4 Broadcast?
Cramer uses stream decks, Blackmagic ATEM Constellation and Companion software with Titler Live 4 Broadcast. One stream deck is dedicated to their NewBlue firing graphics. The team also ties everything to Excel spreadsheets. They build template spreadsheets for sending to their clients to fill out desired titles, names, etc. Titler Live 4 Broadcast helps mitigate any grammar mistakes and simplifies the data-driven graphics process for the team.